After reading the Game of Thrones (actually: A Song of Ice and Fire) books and watching the series published so far, I am really excited for the next book "Winds of Winter". The publication date has been postponed already and Martin believes that each of the last two books will have 1500 pages (source). So far there is no planned publication date (although I think at one point he said it would be published before the sixth season and that is definitely not going to happen).
So far, 6 chapters have been published. But finding them is was not easy so far (*). You can find a list on the Westeros Wiki. When I checked (September 26th 2015), the first 5 of them were linked to a wiki page about the chapter. Not all of the pages have a link to the chapter, but the ones that do just link to Excerpt from the Winds of Winter, a page on George RR Martin's website, that seems to contain only the last published chapter, which currently is the one about Alayne (I assume that he always replaces the chapter with a newer one and the people linking to the page didn't notice that the content changed).
(*) Since I started researching and writing this post, some time has passed. Now I have the mobile app which contains 5 chapters from the book and 3 other excerpts.
Chapters floating around in the internet
Looking at Plannend novels and future and The Winds of Winters: Chapters we find out that some of the chapters can be found using webcitation.org and similar archives.
Barristan I (see below)
Tyrion I/II (see below)
Online you find references to chapters Tyrion I and Tyrion II. Whether one of them is a typo or both are available I don't know. One Tyrion chapter is available in the WOIAF app (see next section).
Currently I can not find the chapter Barristan I online, but someone took notes when he read from the chapters Barristan I and Barristan II. The chapter Barristan I seems to be available in the A Dance with Dragons: A Song of Ice and Fire: Book Five (US paperback)
.
Martin also read an excerpt of the chapter Victarion at a convention (Victarion I read by GRRM (youtube video)).
On reddit you can also find some additional information about the chapters.
Excerpts in the World Of Ice And Fire app
During my research I also found out that some chapters are available in the World of Ice And Fire app (Download it in the App Store | Google Play Store).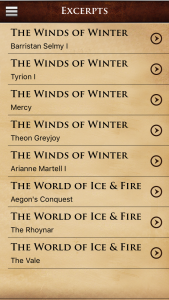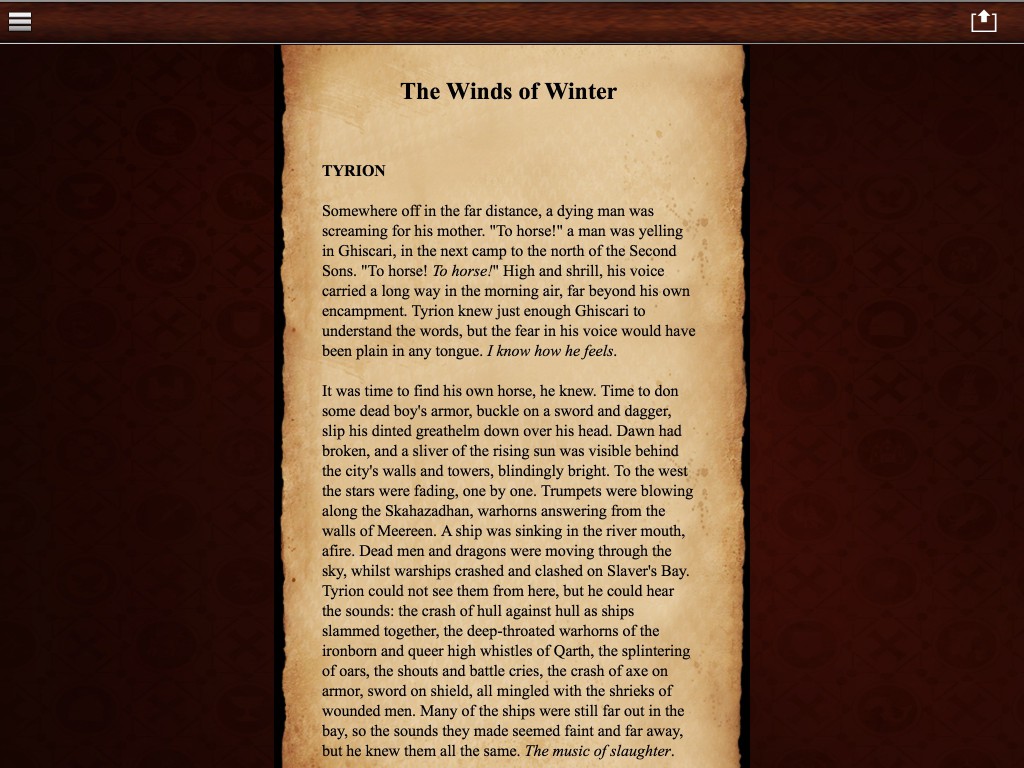 Interesting about this chapter is also what his editor Anne Groell said in an interview:
All I can say is that George is hard at work, and we hope to have it reasonably soon. I currently have 168 pages that he submitted back in Feb 2013 in order to receive a contracted payment, but I know more exists, because he keeps talking about chapter he hasn't yet sent me. In fact, when we wanted to put an exclusive excerpt on the A WORLD OF ICE AND FIRE app—a magnificent thing which you all should buy and use!—he suggested the second Tyrion chapter, which I then had to remind him was not in the sample I had.
Does he post chapters online without talking to his publishers?
Conclusion
There are several chapters already out there and this list should help you to find them (or you feel very un-adventurous and simply download the app ;)). Please tell me if you find any chapters that are not on my list! 🙂 And after you read them, tell me what you think!