Almost exactly one month ago on the 26th of August I became aware of an online tombola to win a Surface 3 by the weblog AmbassadorBase. Here you can find the original post of the tombola (German). In a second post they showed the creative posts of the contestants so far. The idea was to show in a creative way that you are a Windows 10 Insider.
I sent these two (the credits for the Windows logo on the apple go to Patrick :-* ):
Windows 10 am MBP, ich bin sowas von #inside10 @ambbase 🙂 pic.twitter.com/uM2jlFi58g

— Verena Haunschmid (@ExpectAPatronum) August 26, 2015
Windows am Apfel die Zweite 🙂 #inside10 @ambbase pic.twitter.com/kTu6xusp6y

— Verena Haunschmid (@ExpectAPatronum) August 26, 2015
A few days later the good news came, I've won the surface! To give you an insight how I like it and what I've done so far with it I decided to summarize what I used it for in the first week and how that worked out.
My current setup is:
MacBook Pro (early 2011) with Mac OS X 10.10 Yosemite
Windows 7 and Windows 10 in virtual machines
Windows 7 on a PC
iPhone 5 (iOS 9)
Other devices I regularly use:
Day 1 – Unpacking, Setup
When the postman rang the bell last friday I was super-excited, because that usually means that a parcel arrived. And there it was, the yellow box containing my Surface 3!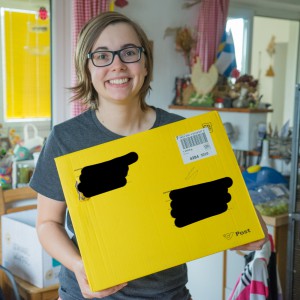 The unpacking took several minutes because we wanted to make sure to get good pictures from every angle 🙂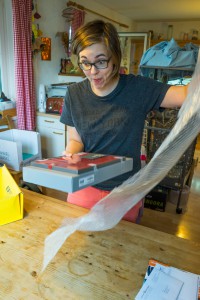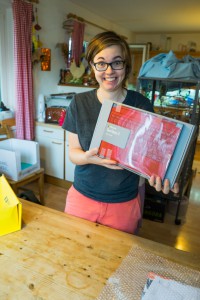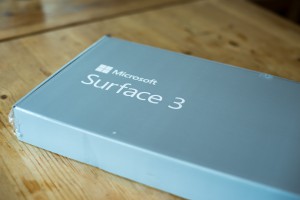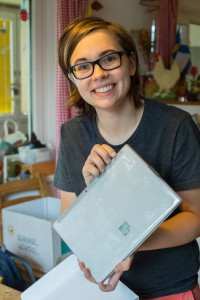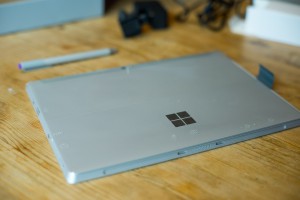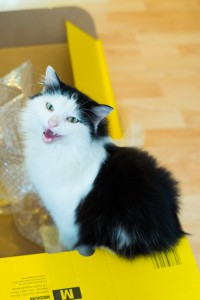 After booting the first thing was to upgrade to Windows 10. Old files from Windows 8 that I don't need were stored in a folder Windows.old. Since the Surface has a rather small hard drive (64 GB), every free MB counts, so I wanted to remove it. It can not be removed manually, but here is explained how you can do it.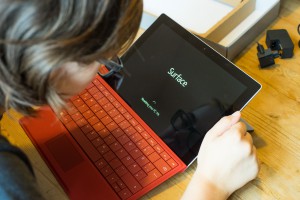 The first thing I noticed when playing around in tablet mode is the very cool keyboard. You can use the on-screen display keyboard in different modi, my favorite one is the mode where it splits and you can type using your thumbs. This keyboard is available in 3 sizes which should make it comfortable to type with any finger length. You can also move the keyboard up and down on the screen so it's not in the way most of the time.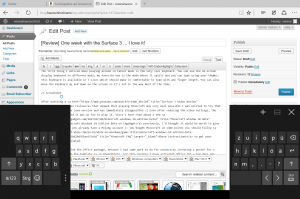 After watching a video review that showed that playing Minecraft was very well possible I was excited to try that out. I installed the Java version and was immediately disappointed 🙁 Even after reducing the video settings, the game lagged a lot and it was no fun to play it. Since I have read about a new Minecraft Windows 10 Edition Beta on Engadget previously, I'd thought it would be worth to give this a try. In case you already have a Mojang account (= you bought Minecraft at some point) you should follow these instructions to get your Windows 10 Beta activated.
After that I installed the Office package, because I had some work to do for university (creating a poster for a conference for which the template is in PowerPoint). For this purpose I have activated Office 365 a few days ago, but I have already activated both my available computer licenses. The cool thing is that is not a problem at all, you can just revoke the license from any device and give it to another one.
Although I intended to do so, I didn't do anymore work on my poster 😉 I installed some apps from the Microsoft Store, which seems a little bit empty compared to the Apple App Store. The thing I would need most is the Twitter App, but that is not very stable yet, it crashed several times when I used it.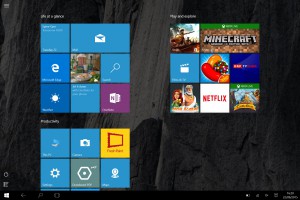 One cool thing for me is also that I showed it to my grandmother, who is usually like "No I don't want to touch this, I don't learn things like this anymore!". But this time I managed to show her how to write using her finger and she liked it 🙂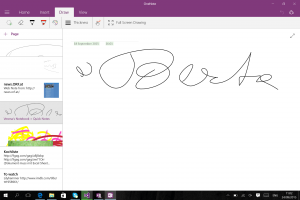 And she asked me her standard question "What can you do with this thing?" (she is always surprised that my laptop is connected to the internet and I can watch movies and play games). I showed her the first cat video on YouTube that popped up and she really laughed a lot about it. Soon she will also want a Surface 😉
Day 2 – PowerPoint, Duet Display, watching series
Finally I started to work on my poster with PowerPoint. I had done some work on it already in my Windows 10 virtual machine (the template requires some fonts that couldn't be installed on my Mac) and was surprised how comfortable it was to do the same tasks on the Surface. If you have several text boxes, tables and images it is sometimes more convenient to use the touchpad and sometimes to directly use the screen.
Later that day I showed the Surface to my future in-laws and we compared it to their Surface Pro (which also has 4GB RAM). Mine is a lot thinner and lighter and, in my opinion, a lot nicer to look at. We noticed something very nice: The keyboards of the Surface Pro and the Surface 3 can be exchanged, they are compatible in both directions. This is useful information if someone wants to buy a new Surface (with the same sized display of course).
We also wanted to try the app Duet, which allows you to use an iPad as an external screen for Windows computers and Macs. I have used this app sometimes to have an additional screen for my 13″ MacBook Pro, when I was not at home at my desk. The app works as well with the MacBook, some drawbacks are poor resolution and it laggs a little bit. But you can also use the touch screen of the iPad and when you only need it as a second screen to look something up while you work on the other screen, it's absolutely useable.
For watching series we usually use Netflix and stream it to the TV from one of our Laptops or iPad, or we use the PS3 to access videos stored on our server. The Surface proved itself worthy of the task, but you feel like an idiot when you try to move the VLC player with your finger from the Surface screen to the TV because you got so used to the touchscreen.
Day 3 – PowerPoint, Minecraft, Divine Academy (game)
The next day – Sunday – I did some more work on my poster. Still happy with PowerPoint both in tablet and non-tablet mode (is that how you call it?)
I accidently found out that Minecraft can be played in the tablet mode. It's fun for some time but it's not really a nice gaming experience. I will definitely not do that very often.
Later I was looking for some useful tablet games since I am more a fan of mini games that can be played on a phone or tablet. I found the game "Divine Academy" which is placed in the mythological Greece. For such games (where you have to collect things, build things and don't have to run around) I think a tablet is perfect. I have played such games before on a computer but I like it a lot more on the Surface (or iPad). The game is a little bit buggy though and that started with the installation: When I found it in the Store I was in tablet mode and couldn't find the download button. Then I exited the tablet mode and the button was there. After installation I entered the tablet mode again and the game worked without a problem. For such a game, where you can not run around and just need to click at things it would not make sense to require a keyboard.
Day 4 – Gaming, Surfing, HP Spectre
Since I had to work on this day, I didn't do much with the Surface expect for playing Divine Academy for some time and internet surfing.
In the afternoon a friend showed us his HP spectre, which is a convertible notebook. Compared to the Surface 3 of course it has a more stable keyboard and a bigger screen (13″ I think) but neither the touch screen nor the tablet mode are very useful. When you use it like a notebook and use the touch screen, the lid always gives way under the pressure (which does not happen with the Surface because of its foot) and when in tablet mode (you can "fold" it in the opposite direction of closing it) it is really heavy and thick and you always feel the keys. Another thing we noticed is that the touchpad is really, really big and that is annoying when typing.
Day 5 – Surface Pen, woohoo!
This day finally the battery for the Pen arrived! The AAAA battery was not available in our local shops so we had to order it at a shop in Linz.
The main features are:
Click at the purple button opens OneNote
Double-click at the purple button lets you take a Screenshot. Everytime you do this it creates a fullscreen Screenshot and saves it to a Screenshot directory. Then it lets you select a region of your screen and inserts it into a new note.
Two buttons on the side for special features (cut things, eraser, right-click, …) depending on the program
Handwriting recognition (in various languages, just download the right packages)
Pressure-sensitive (makes handwritten text look a lot nicer)
The purple button makes this pen really a valuable asset for working with the Surface. The handwriting recognition works really well but I think that typing on a keyboard is a lot faster and more convenient. When a handwritten word is not recognised you have to write it again or correct a letter and when it still doesn't know it, you have to switch to the keyboard anyway.
Day 6 – Twitter
Again, I did not do much except for working on the poster, playing Divine Academy and browsing Twitter. For using Twitter the Surface is actually the best device. You don't write long texts (so the keyboard doesn't bother me that much) and all the activities you do (clicking the star, retweeting, follow someone) can easily be done with your finger and I think it is a lot more convenient than using a mouse or touchpad on a normal screen. So the Surface is going to be my new Twitter-machine (although the app still sucks and I open it in the browser).
Day 7 – OneNote, Visual Studio
Before finishing this post (today I typed on the MacBook Pro), I decided to test something very important: Visual Studio 2015. While waiting for the installation to finish, I noticed another cool feature. Clicking the Windows key + N opens OneNote settings. In general I got the impression that Microsoft focused a lot on making OneNote and everything around it very useful, which makes it a very powerful note taking application.
Features summarised:
Windows key + N opens OneNote options
Gets extra functionality with the pen: Screenshots can directly be sent to the app, OneNote can be opened by a button click…
Finger/pen can be used to create drawings or write text
App available for Windows, Mac, Android, iOS, … Also a very rich web client.
Finally Visual Studio finished installing and I created an obligatory "Hello Surface" application. This was the first time working with Visual Studio 2015 (in the office I have VS2013) and I already noticed two differences. Above the main method "0 references" was written. Looking this up, I found out on stackoverflow that this is already available in VS2013 and I probably have turned it off. Seems to be a nice feature though 🙂
Secondly, Visual Studio gives suggestions on how to simplify your code, which can also be useful.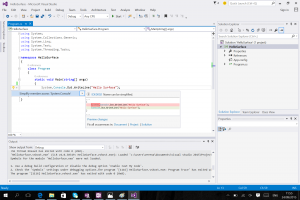 Overall impression
One thing I noticed is that using your fingers is a lot more intuitive than using another input device. Not only for my grandmother, who I think used a computer/tablet for the first time in her life, but also for me. After a few days with the Surface I started touching the screen of my MacBook Pro to close windows or click buttons which than doesn't work. And for a short second I even wonder why …
In the following I like to point out some pros and cons I noticed, but definitely not obvious things like "the screen is smaller than on my MBP". I rather focus on things that I did not expect and also other people might not expect at first.
One thing that is neither very positive nor very negative (at least in my opinion): There are not as many apps available as one might hope (when you are used to the Google Playstore or Apple App Store) and some of the apps are really bad (Twitter, EverNote). This is not such a big problem because you can install any Windows application anyway. But it would be cool if there were more useful apps that are especially made for tablet mode. The slightly good thing about this is that this leaves enough space for developers to create some cool apps 😉
Pro
The screen is awesome. You can go infinitesimally close with your eyes and you don't see any pixel. And it does not seem that small compared too the MBP because of its good resolution.
The Surface is the perfect Twitter-machine
The 3 positions of the kickstand are a big plus compared to older Surfaces (Remark: the kickstand of the Surface 3 Pro is even better).
It is faster than expected and does not get hot even when playing for some time (my MBP is a real heating machine) and I think 4 GB RAM is a must (2 GB are also available)
Contra
I don't like the keyboard very much (because of that I am now writing on the MBP and Patrick is drawing something on the Surface). I will probably by something more robust in the future.
Currently I don't use the pen as much as I thought I would. Probably I have to get used to it first.