Last christmas I received the most amazing gift ever: A GPS Pet Tracking device developed by the company Tractive. This company is located in Pasching (Upper Austria), which I found out when I first opened my present.
The GPS Pet Tracking device is an item that allows you to live track your pets. The tracker has a size of 51mm x 41mm x 15mm (2.0in x 1.6in x 0.6in) and weighs 35g. It is recommended for pets with at least 4.5 kg. They claim that their tracker has a battery life time of 2-5 days. Of course the device needs a SIM card to be able to send the GPS location every few seconds or minutes. The tracker has to be activated online and you have to pay a small amount per month (so that the SIM card can send data) which depends on the subscription plan (basic or premium) you use. Once you have activated the device you can put it on your pets collar (I recommend a harness).
The tracker comes in a nice box which also contains a USB charger, an adapter for a normal socket and two different sized clips to put the tracker on your pets collar or harness. The tracker looks and feels really nice made and robust. You can track your pets using a web browser or you can use an app (Pet Manager LITE for free or Pet Manger PRO).
Our first try was to put the tracker on Minerva, but she did not like it at all, so we put it on Maya. We added a safe zone around our house, which allows the app to give you a notification if your pet leaves the zone. So far Maya showed the most activity of all three cats (Teddy only left the safe zone once).
The PRO app is really cool, you can add several pets (I don't think that there is a limit), you can add pictures for each pet, the app allows you to add medical information and you can even use it to track your walks (more useful with a dog than with a cat). There is only one strange problem with the app, sometimes it says that my pet does not have a GPS signal (for a couple of hours), but if I restart the app on my phone it immediately works again.
I use the tracker almost daily, usually Maya and Teddy have it for some days in turns. I also use the app very often, because when I get the notification that a cat left the safe zone I usually check out where they go (unless it is in the middle of the night, which seems to be their preferred time for strolls…). When I walk with our dog I also use the app, it tracks how long and how far we walk and it shows you statistics for all your walks.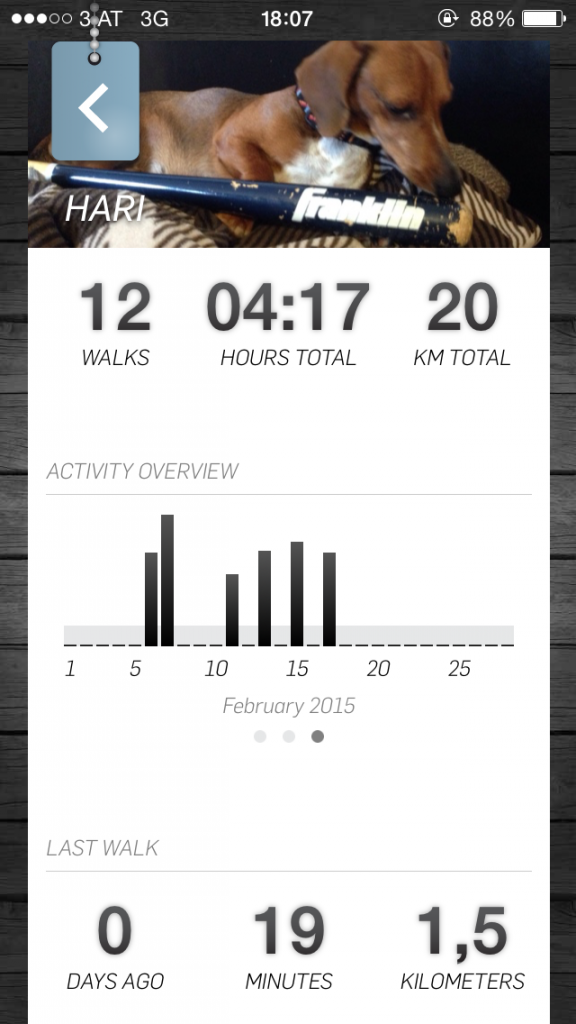 I am very happy with the device and can only compliment the company for their product and moreover for their support. Two times I already had some problem and I always received an answer within 2 hours (once on a christmas holiday and once on a Friday after 6pm).
Everyone who loves his cat or dog needs this device! 🙂