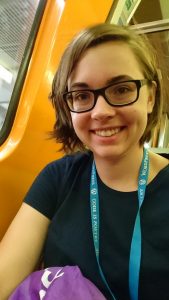 Last weekend I visited the WordCamp Europe in Vienna and this blog post will cover day 2 and my general impressions. At the bottom you can even see a 360° panorama of the Museumsquartier!
After the really exciting first day (read more here) I was looking forward to day 2. I had spent the night at a friends place and was planning to get back their after lunch, so I had to plan my last half day at the conference wisely.
My planned schedule was:
What's my WordPress Site's Email Strategy?
Handling Anxiety (Short Talk)
Speed Networking
The Ultimate REST API Talk (spanned 2 time slots)
What's my WordPress Site's Email Strategy?
This talk was given by Becs Rivett-Kemm (@becskr).
I got a few nice tips from this talk and also the feeling that how I am handling my email right now is not completely wrong. Becs recommends considering a mail service instead of using the standard mail that comes with the setup of wordpress.com or jetpack.com (which adds the functionality for self-hosted blogs).
She mentioned 3 important steps (maybe more but those are the once I wrote down):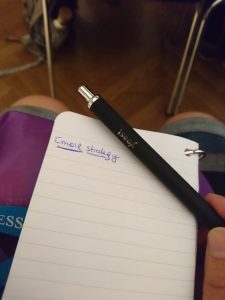 Do research: A good idea is to subscribe to many newsletters yourself to find out how they look, how often they send emails and so on.
Set up a strategy: set goals like growing your list of subscribers, get more people to read your content and decide what content to send and how often. What should I say in the newsletter? Don't just use it for self-promotion and keep unique content for the newsletter.
Design & Grow: Don't put more than 3 or 4 messages in a newsletter, put the key messages to the top. Use a Call to Action to find out how many people actually read your newsletter (e.g. a button "Read more…"). Think about where to put your signup form (mine is in the right sidebar by the way ;)). If you use popups, do them correctly! It's annoying (you probably know yourself) if something pops up after a few seconds on a website. A good strategy here is to use pop ups at "exit intent". She recommended the tool Optin Monster
She also mentioned that she is using "RSS to email" with MailChimp which I use as well. So now I am pretty proud about this decision 😛
Handling Anxiety (Short Talk)
This talk was given by Tom Nowell (Tarendai).
He has a list of talks, maybe this will be up there soon too.
I thought this talk might be interesting for me since I am not very fond of talking in front of people ("afraid" describes it well actually). It was a talk that would fit any other conference too. Tom gave some great tips on how to deal with anxiety or other personal problems that could affect your work life and also how to deal with it if your employee or someone else talks to you about problems.
He provided some great links too, unfortunately I lost them and I hope he'll put up his slides.
The Ultimate REST API Talk
This talk was given by Joe Hoyle (@joe_hoyle).
Joe gave a pretty interesting talk about the JSON REST API for WordPress for which a plugin exists but in the future he would like to have it in core. Here is lots of documentation about it where you can read everything that's relevant. I thought the part about Authentication was interesting. The main statement on the site is: When you are creating a plugin/theme, use cookie authentication and if you are using the API for a desktop application use OAuth authentication, application passwords, or basic authentication. The presentation was quite technical (which I liked) but I don't remember many details. Hopefully there will be slides somewhere 🙂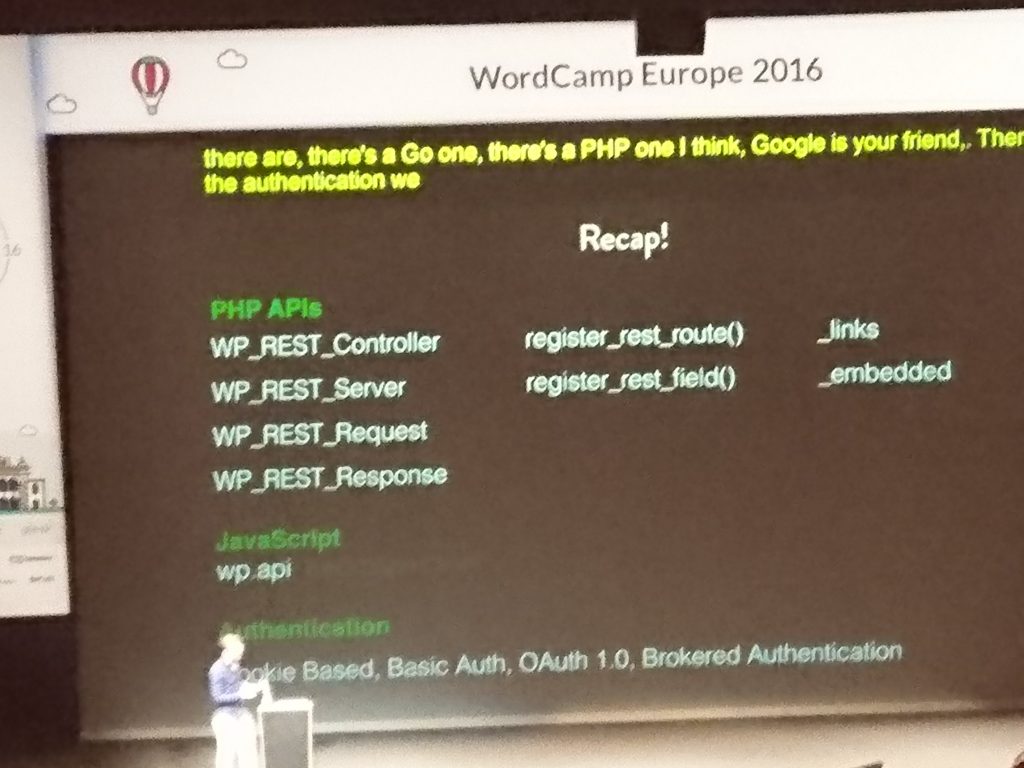 WordCamp: General impression & Closing remarks
After just a few minutes at the conference I was already pretty impressed about the organisation. The registration of hundreds of people (the numbers I heard were between 1800 and 2000) went very quick. There were always enough toilets, seats and cold drinks. We were also provided with free coffee, tea, fruits and sweets (cakes, …). I was impressed how the schedule was always on time and was even possible to switch the rooms in between talks without disturbing someone. I just missed one talk on Day 1 because the room was full.
Goodies
The whole thing was also a little bit like a WordPress fair, but people were handing out goodies and not annoying you with trying to sell you something. It was insane how many cool goodies they had. I ended up with 4 T-Shirts (the red one you got for just registering and being there). At first I thought you needed to do something to get a shirt like signing up for a newsletter but they just handed them to you. The T-Shirts have really high quality (at least before washing them, we'll see how that will be later :P) and look really nice. I was just slightly annoyed by how little the people at the booths wanted to talk about their products. At some stands I wanted to have the goodie but at others I would have liked to talk about the plugin/product but mostly it was like "Are you interested in our plugin? Here you can send us an email and ask questions!". Maybe those were marketing guys of the company who did not know too much about their product or they were not allowed to advertise/sell anything on the fair? Don't know but I would have loved to talk a little about their stuff.
I created a list of my least and most favourite goodies:
Least favourite: The yoast pen, sorry yoast.com, I love your work but your pen hurts my fingers! 😉
Most favourite T-Shirt: I think the jetpack.com T-Shirt looks best and has a really comfy fabric
Funniest goodie: The yoast cookie cutter! That's a very creative idea 😀 Around christmas we'll see how well it works!
Best goodie of all: The siteground.com socks. I love socks, I just need to wait until it gets colder again.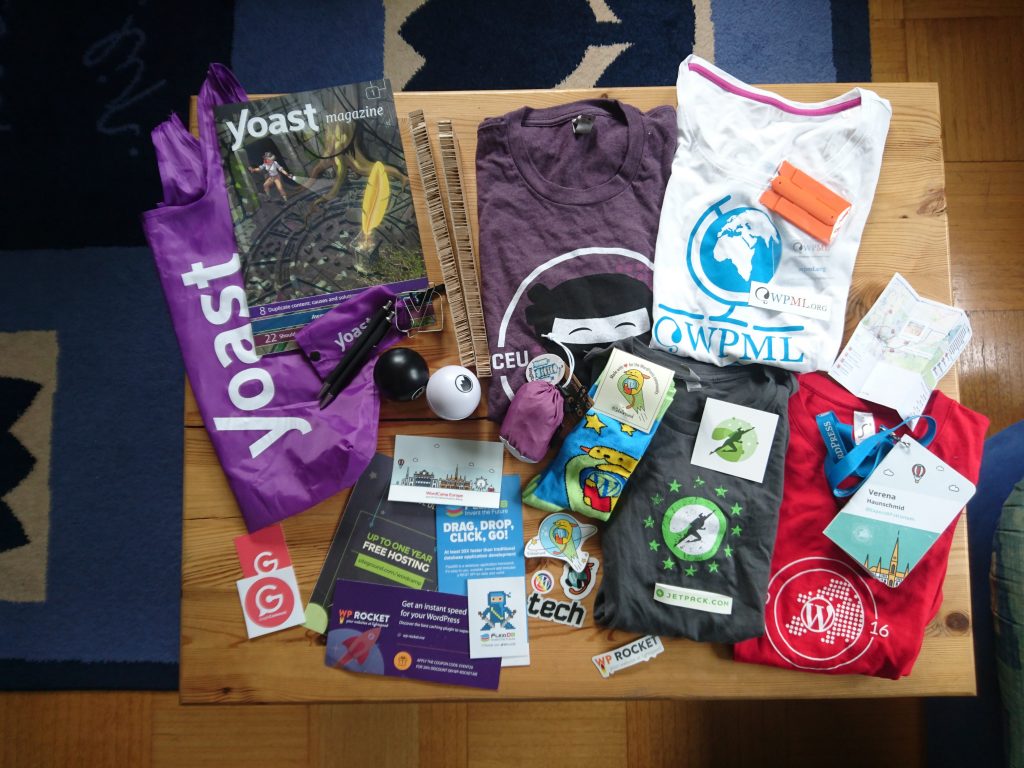 Maps Marker promo code
Right after entering the hall for registration the person behind mapsmarker.com gave me a promo code for an upgrade to the PRO version! I've used this plugin before (Karten in Blog Posts einfügen, München Tag 1, München Tag 2) and know I am really excited to do more with it!
People there
As I mentioned in the post for Day 1 I was really excited to see how many were there, I hadn't imagined it to be so big (by the way it was the biggest WordCamp Europe so far!). I met only 2 Austrian people I knew (but maybe also because we didn't hear about it much in Austrian blogger groups?!). It was cool how international (or mostly European) this conference was.
How did you like it at the conference?